Woman
Man
Couple
All Of The Best BDSM Toy Websites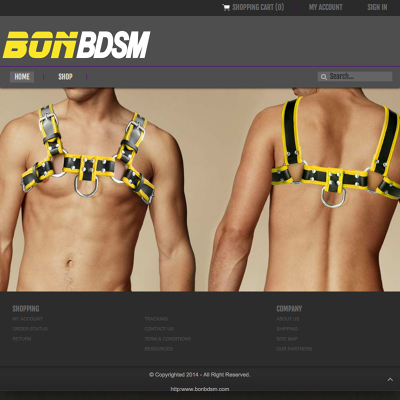 BonBDSM.com
When you want to bring a bit or a lot of kinkiness into your life, BonBDSM.com is a great place to check out. Whether it's straight up leather gear like collars and harnesses and hoods, or specific device likes butt plugs and chastity belts, you'll definitely find something to give you some pleasure after the pain. And if you have some medical fantasies, they've got you covered there, too, with medical restraints and sensory deprivation hoods.
BonBDSM.com Is A Hot Site For All Your BDSM & Sex Toy Needs
'no questions asked' return policy
easy to search for products that will excite you
if you have any questions or concerns, it's simple to contact the owners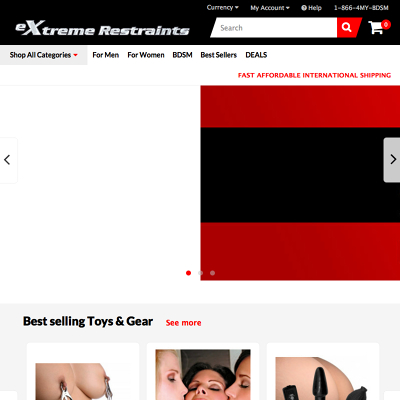 ExtremeRestraints.com
With ExtremeRestraints.com, you'll find a site that makes it very easy to get into the harder stuff. Going through their best selling toys on their main page and you'll find everything from labia spreads to mouth gags to cock and ball harnesses. It's easy to search for exactly the sort of thing that turns you on, and it can be minor as some lube to a giant sex machine. And with user reviews you can see exactly what other customers like.
they frequently offer free gifts with every purchase
staff picks means you can see what the owners themselves use
save $10 on your next order if you sign up for their newsletter

Stockroom.com
If you're even remotely interested in BDSM, then you owe it to yourself to check out Stockroom.com, where the selection is huge, and they constantly offer great daily discounts to match. Going to their bestsellers page, and you'll find that your fellow customer love it kinky, because the items here range from leather collars, ball gags, a hog-tie set, and an anal plug harness. They even more extreme sections with 'pet play' and sex machines.
Stockroom.com Is A Choice Place To Find All Your BDSM Needs
sign up for their newsletter to learn about special offers
their online outlet store has products up to 70% off
they offer vegan bondage gear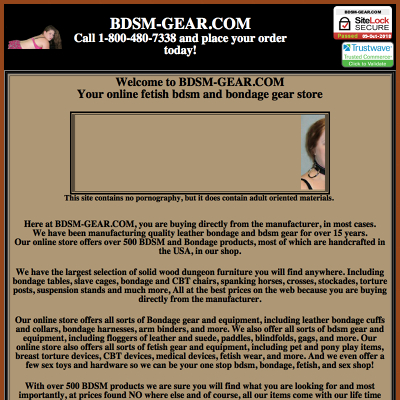 BDSMGear.com
BDSMGear.com may now have the freshest site layout, but they make up for it by having a great selection of every sort of fetish device and attire you can possibly imagine. From restraints and shackles to pet role-play (with leather gear meant to make you look like a pony or a dog), it's easy to indulge in your wildest fantasy here.
BDSMGear.com Is a #1 Choice for exploring the kinkier side of sex
you can order monogramed and personalized items
easy to create your own on-site wishlist
search bar is right on the main page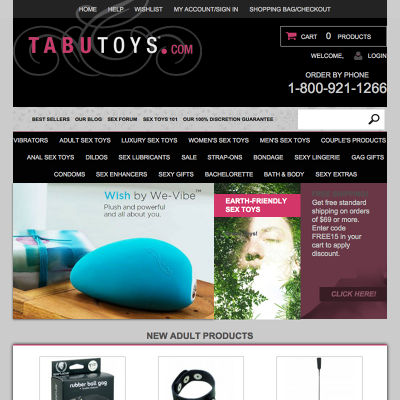 TabuToys.com
While TabuToys.com certainly has something for everyone in terms of exploring their sexuality, they have no problem kicking it up a notch to the extreme with their extensive BDSM section. In fact, they have a beginner's page, where you can order start up kits (some restraint, paddles, and blindfolds). But if you want chastity harnesses or mouth gag with a dildo sticking out of it, they've got that, too.
TabuToys.com Is An Excellent Choice For BDSM Toys
flexible 30 day return policy
free shipping on orders over $69
they also offer some lighter sex toy fare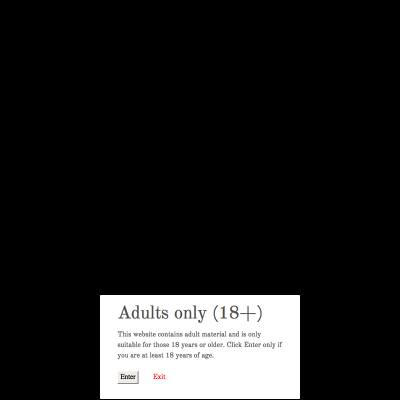 TheBlackRoomVegas.com
Finally, what happens in Vegas can quietly leave Vegas. At TheBlackRoomVegas.com, you'll find all the kinky gear and equipment that the city of sin uses, and bring it into the comfort of your own home. Whether a simple pair of hand or ankle cuffs, or something a lot more extreme like a leather head mask and inflatable pins gag, you'll find it all here.
TheBlackRoomVegas.com Is A Great Site With A Wide Selection Of BDSM Sex Toys
easy to shop by brand or category
they have a brick-and-mortar store in Las Vegas
easy to search for what excites you right off the main page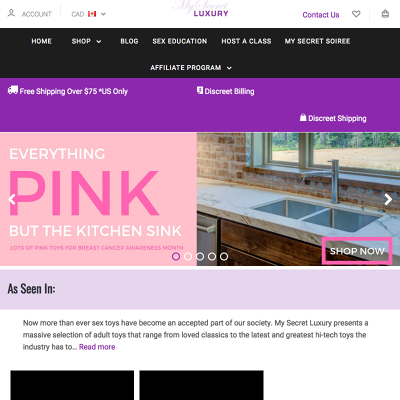 MySecretLuxury.com
MySecretLuxury.com has an excellent collection of general sex toys, but they devote a lot of their attention to the kinkier side of things. You'll find handcuffs and ticklers and blindfolds to start, but they quickly rev it up into higher gear with ball gags, nipple suckers, and restraint systems for beds. While you don't have to keep a secret, it's certainly a luxury.
get 10% off your purchase when you subscribe to their newsletter
free shipping on orders over $75
great intro video to BDSM on the main page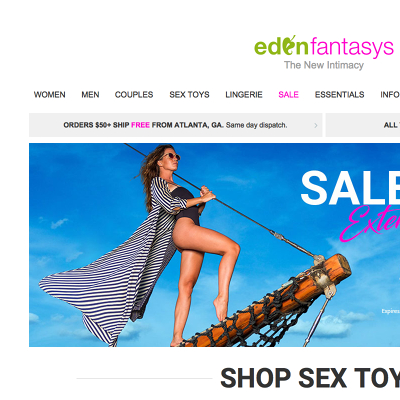 EdenFantasys.com
EdenFantasys.com has everything you could want from a sex toy site, and they have a great section for beginners and veterans in the world of BDSM. From start kits, to specific things like restraints and even electro-play (shockingly fun), you'll definitely find something that gets you extra excited.
EdenFantasys.com Is A Top Destination For BDSM Gear
Free shipping on orders totalling $50 or more
get three free vibrators when spending more than $25
they have a forum where you can talk about your fantasies with others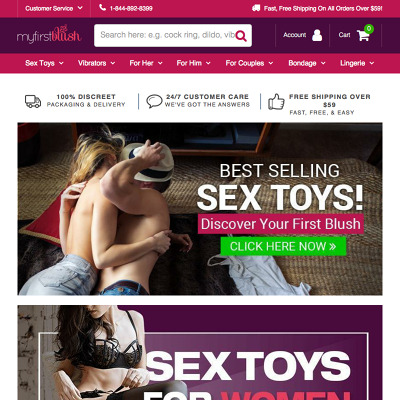 MyFirstBlush.com
Like it's name suggests, MyFirstBlush.com will let BDSM rookies start slow with some beginner products like blindfolds, cuffs, and the odd whip. But once you get going and want more, then the gloves come off (or on, actually) and you have all cock rings, chastity belts, nipple clamps and sex machines at your fingertips.
sign up for special offers through their mailing list
90 day free returns
free and discreet shipping on orders over $59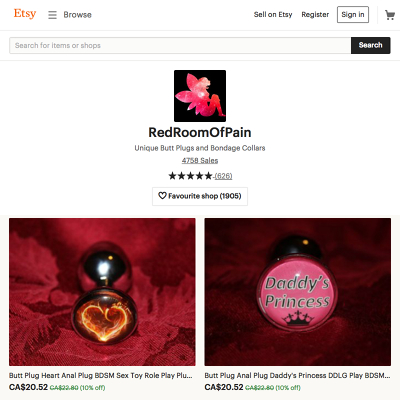 RedRoomOfPain.com
RedRoomOfPain.com is an artist page on etsy (the premier arts and crafts store site on the internet), and while this may seem rather quaint, they're main speciality is butt plugs and bondage collars. And while they have a great selection of bejewelled items where the other end is all about giving you some back door pleasure, the bondage collars with dirty terms written on their tags are a particular turn on. It's a great way to personalize your interest in BDSM.
RedRoomOfPain.com Is A Premium Site For BDSM Supplies
by buying something here you become part of the larger etsy community
flat shipping rate
a great way to support local artists